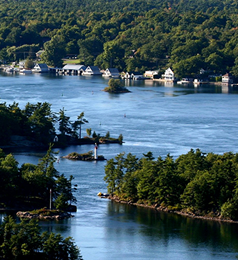 If you are experiencing a water or sewer emergency in the village of Lansdowne please call 1-800-268-6060.
For general inquiries during regular business hours call 613-659-2415 ext 201 or complete a Request for Service form.
The following water and sewer information applies only to the village of Lansdowne.
Payment Options
We provide several ways for you to pay your water and sewer bill:
by telephone banking (add "Leeds" as a payee, use your account number on the top of your bill)
by online banking (use "Leeds" to search for payee, then select "Leeds and the Thousand Islands, utility" use your account number on the top of your bill)
in person at the Bank of Montreal in Lansdowne or Gananoque
in person at TD Canada Trust in Gananoque
in person at the Township office
by drop-box at the Township office (cheques only please)
by Canada Post
with post-dated cheques
online through PayPal/credit card. Please note when paying with PayPal/credit card, a 3% plus $0.35 convenience fee is charged per transaction. Have your 11-digit account number and 5-digit PIN number ready to register/create an account and make your payment. Your account and PIN numbers are found on the top of your water bill.
Water and Sewer Rates
The water system is metered and meters are read monthly. Rates for usage are based on 20 cubic metres of water per month. The current minimum billing for residential water and sewer is $134 per month; $163 per month for commercial properties. Usage over 20 cubic metres is billed at the rate of $5.62 per cubic metre for residential and $7.48 for commercial. Sewer is not metered and is billed based on the amount of water used.
Rebates
If you are a resident of the village of Lansdowne and have a secondary building or a room for an elderly family member who lives with you, you may qualify for the Water and Wastewater Rebate for Seniors program. Review the water rebate policy guidelines and submit an rebate application if you qualify.
Water tests and reports
The water and sewer system for the village of Lansdowne is owned by the Township of Leeds and the Thousand Islands and operated by the Ontario Clean Water Agency.
The water is tested weekly and annual reports are available for your review.
Financial plan and rate study
Current rates are based on the findings of a Water and Wastewater Rate Study and the Financial Plan for the system.
If you are planning to develop a property, please contact ON1Call to get a locate for hydro and gas services and call us to locate water and sewer services.