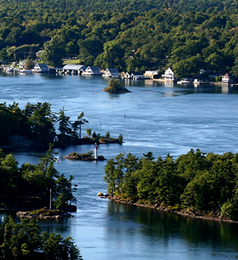 The Township of Leeds and the Thousand Islands is constantly adapting to new requirements and protocols as we continue to deal with the global crisis. If you have specific questions about procedures or protocols, please contact the office: call 613-659-2415 or email info@townshipleeds.on.ca.
Latest Update
June 11, 2021 - Media Release #34 - TLTI Reopening as the Province Moves to Step One and Partial Burn Ban in Place
Township Information and Resources
By-law Enforcement
For emergencies call 911
By-law Enforcement inspections will occur only for emergency situations at this time
Enforceable complaints:
COVID-19 case or contact not self-isolating. Please contact the Health Unit if you suspect someone is not isolating after public health direction
Self-isolation for returning travelers, under the Quarantine Act
The Ontario government, in consultation with the Chief Medical Officer of Health and other health experts, is strengthening enforcement of the province's Stay-at-Home order while imposing new travel restrictions and further strengthening public health measures. These urgent actions are targeted at stopping the rapid growth in COVID-19 case rates and relieving mounting pressures on the province's health care system. Some of the broad restrictions are listed below:

Prohibited - all outdoor social gatherings and organized public events, except for with members of the same household or one other person from outside the household who lives alone or a caregiver for any member of the household;
Close all non-essential workplaces in the construction sector;
Reduce capacity limits to 25% in all retail settings where in-store shopping is permitted. This includes supermarkets, grocery stores, convenience stores, indoor farmers' markets, other stores that primarily sell food and pharmacies; and
Close all outdoor recreational amenities such as golf courses, basketball courts, soccer fields etc.
Non-enforceable Complaints:
Personal infection prevention, e.g. hand washing and mask wearing
Self-isolation for anyone other than returning travellers or those who have been directed to by public health as listed above
Physical (social distancing)
Building Permits and Inspections
Please see the Township of Leeds and the Thousand Islands Building Services Information for details on shutdown protocols.
Building permits will continue to be received, reviewed and issued electronically during the shutdown
Building inspections will continue in unoccupied spaces
Council/Committee Meetings
Council is meeting as regularly scheduled please check civicweb for meeting schedules and agendas. Meetings are currently being held in a virtual format.
Committee meetings are being held virtually.
Planning
Applications are accepted by email or can be dropped off at the Township Office in the mail dropbox at the main entrance.
Drop in sessions are not occurring at this time, please submit inquiries by email to Planningtechnician@townshipleeds.on.ca or associateplanner@townshipleeds.on.ca or by phone to 613-659-2415 extension 203 or 226.
Development Review Team meetings are occurring and will take place as a virtual meeting or conference call.
Property Tax Payments
There are several payment options available including online, through telephone banking, at most financial institutions or mail a cheque to the Township office.
If you are unable to use one of the available payment options, please contact the Township at 613-659-2415.
Property assessments for the 2021 taxation year will continue to be based on the January 1, 2016 current values (i.e., the same valuation date in use for 2020 taxation year).
Recreation Services
Here is a summary of the impact of of the Provincial Stay at Home Order on recreation in TLTI:
Township facilities are closed to the public.
In-person recreation programs have been suspended.
Parks, play structures and boat launches are open.
Picnic areas, pavilions, sport courts, ball diamonds and the skatepark are closed.
Here are some virtual opportunities to keep residents busy during the shutdown:
External Information and Resources
Business Support
Community Resources
R.O.L.L. Aid Food Bank call 613-770-2935
Travel & Border