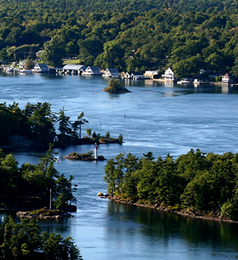 The Township of Leeds and the Thousand Islands declared a Municipal State of Emergency in accordance with the Emergency Management and Civil Protection Act, at 2:00 on Monday, March 23, 2020.

Declaring an emergency affords the Township of Leeds and the Thousand Islands additional powers to protect the health and safety of all individuals, families and businesses.
The Township of Leeds and the Thousand Islands is continuing to take safeguards to protect the health and safety of residents and staff as the coronavirus (COVID-19) situation evolves.
To help slow the rate of COVID-19 infection the Township has cancelled all non-essential services and closed public facilities. The tentative date for services to resume is April 6, 2020.
The office will remain operational to provide essential services and assistance to residents; staff can be reached by phone and email. To contact the office, please call 613-659-2415 or email info@townshipleeds.on.ca
The Township continues to operate and has adapted service delivery to minimize the risk to the public and staff. Below is a listing of Township Services and information regarding access to services. This will be updated as new information is provided.
UPDATE MARCH 24, 2020:
There is a county-wide burn ban in effect for the United Counties of Leeds and Grenville
The following sections of the website have been updated
Council Meetings;
Library;
Property Tax and Utility Payments;
Waste Sites and Waste Labels;
Business Support;
Community Resources
TOWNSHIP INFORMATION AND RESOURCES
By-law Enforcement
For emergencies call 911
By-law Enforcement inspections will occur only for emergency situations at this time.
Building Permits
Building Inspections will continue on a limited basis. Building Inspectors will require social distancing measures on site and may use alternative measures such as photos and videos for inspections. When entering the location for an inspection the inspector will only view the area needed for the inspection and will touch as little as possible and maintain a safe social distance.
Applications and requests for inspections should be submitted by e-mail to CBO@Townshipleeds.on.ca
Community Grants
The deadline for Community Grant application submission has been extended to April 17th to allow community groups additional time to co-ordinate their requests for consideration.
Council/Committee Meetings
Council will only meet to deal with urgent, legislative, regulatory and/or time sensitive issues. All meetings will be live streamed.
All Committee meetings are cancelled until further notice
Fire Services
For emergencies call 911
Leeds and the Thousand Islands Fire Services will continue to operate under standard operating procedures; however, they have taken additional measures to protect first responders.
Burn permits are available at no cost online
Library
The Leeds & The Thousand Islands Public Libraries are CLOSED
Call 613-659-3885 for more information.
All drop boxes are closed and due dates will be extended, and all fines waved during this time.
On line services are available at https://www.ltipl.net
The Archives will be closed until further notice
Parks
A reminder that all Township day-use parks are closed until May 15. All play structures are closed as well.
Planning
Committee of Adjustment and Development Review Team meetings have been cancelled and will be rescheduled. New applications to the Committee of Adjustment will not be received. There will be delays in the review of applications received prior to the current disruption.
Planning inquiries should be forwarded to Planningtechnician@Townshipleeds.on.ca
Property Tax Payments
The Township has extended the due date for the 2020 interim property taxes by 60 days- revised due date May 19, 2020.
There are several payment options available including online, through telephone banking, at most financial institutions or mail a cheque to the Township office.
Please see our website for more information www.leeds1000islands.ca.
If you are unable to use one of the available payment options, please contact the Township at 613-659-2415.
Recreation Services
All Township recreational programming, events, and facility rentals have been suspended for the immediate future, as gatherings can accelerate the spread of the virus. TLTI will continue to monitor the ongoing situation and update the public accordingly.
In the meantime please enjoy some of the following resources:

Enjoy TLTI's "Stay at Home Scavenger Hunt" for young families.
The Virtual YMCA has activities for your mind, body and soul. They offer home workouts for children and seniors, virtual aquarium tours, guided meditations, a list of mental wellness apps and more.

Storyline Online has many great books for your littles. They are enthusiastically read by Screen Actors Guild members like Betty White, Oprah Winfrey and Kevin Costner.

MOOCS (Massive Open Online Courses) can be filtered by subject, language, learning pace and more. These courses are offered for free by Queens, McGill, Harvard and many other schools in North America and around the world. Keep your brain engaged during these times of isolation!

We have all heard of TED Talks but let's not forget the variety and the ease of access to a broad variety of topics. Get inspired or learn something new in minutes!
Roads
Operations and road maintenance programs will continue.
Waste Sites & Tickets
Water/Wastewater (Lansdowne)
Operating as per usual - for a water or sewer emergency in village of Lansdowne call 1-800-342-6442 and leave a message for the Chesterville hub.
The due date for Lansdowne water/wastewater utility bills has been extended 60 days- revised due date June 1, 2020.
There are several bill payment options available including online, through telephone banking, at most financial institutions or mail a cheque to the Township office.
Health Resources
Use the Ministry of Health's self-assessment to help determine if you need to seek care. If you're having difficulty breathing or experiencing other severe symptoms, call 911.
External Information and Resources
Business Support
Community Resources
R.O.L.L. Aid Food Bank call 613-770-2935
Government
Travel & Border
Internet Access
Contact your local provider to review options for provision of services
Public Access Hotspots are available at Township Library Branches and the Township Office