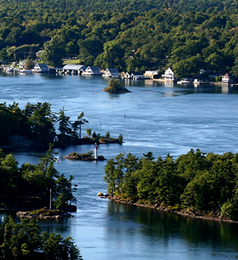 The Township of Leeds and the Thousand Islands is in Stage 3 of Reopening in Ontario. Our Businesses and Facilities are reopening and adjusting to the new requirements and protocols. Effective July 7, 2020 facial coverings/masks are required to be worn inside enclosed public spaces. The Township Office is open to the public from 10:00 am - 3:00 pm beginning July 27, 2020. Staff can be reached by Phone and email. To contact the office please call 613-659-2415 or email info@townshipleeds.on.ca.
Latest Update
August 12, 2020 - Media Release 21 - Township Lifts State of Emergency

Township Information and Resources
By-law Enforcement
For emergencies call 911
By-law Enforcement inspections will occur only for emergency situations at this time.
Enforceable complaints:
COVID-19 case or contact not self-isolating
Essential business not operating safely
Non-essential businesses that are open.
Self-isolation for returning travelers, under the Quarantine Act
Organized public or social gatherings of more than 5 people. If the incident is happening now call:
Use of outdoor recreational amenities (e.g. basketball court, soccer field, park bench, park picnic table, playground structures) If the incident is happening now call:
Non-enforceable Complaints:
Personal infection prevention, e.g. hand washing
Self-isolation for anyone other than returning travellers
Physical (social distancing) unless it is a public or social gathering of more than 5 people not from the same household.
Building Permits
Township of Leeds and the Thousand Islands Building Services Information
Council/Committee Meetings
Council is meeting as regularly scheduled please check civicweb for meeting schedules and agendas. Meetings are currently being held in a virtual format.
Committee meetings are being held virtually
Planning
Applications are accepted by email or can be dropped off at the Township Office
Drop in sessions are not occurring at this time, please submit inquiries by email to Planningtechnician@townshipleeds.on.ca or associateplanner@townshipleeds.on.ca or by phone to 613-659-2415 extension 203 or 226
Development Review Team meetings are occurring and will take place as a virtual meeting or conference call.
Property Tax Payments
Final tax bills will be issued in August and due October 23, 2020
There are several payment options available including online, through telephone banking, at most financial institutions or mail a cheque to the Township office.
If you are unable to use one of the available payment options, please contact the Township at 613-659-2415.
Property assessments for the 2021 taxation year will continue to be based on the January 1, 2016 current values (i.e., the same valuation date in use for 2020 taxation year).
Here are some Questions and Answers relating to the impact of COVID-19 on property taxes.
Recreation Services
All Township recreational programming, events, and facility rentals have been suspended for the immediate future, as gatherings can accelerate the spread of the virus. TLTI will continue to monitor the ongoing situation and update the public accordingly.
In the meantime please enjoy some of the following resources:

TLTI has introduced a Fitness Equipment Lending Program to help residents stay active during the pandemic.
Enjoy TLTI's "Stay at Home Scavenger Hunt" for young families.
TLTI has a series of #StayAtHome Challenges.
The Virtual YMCA has activities for your mind, body and soul. They offer home workouts for children and seniors, virtual aquarium tours, guided meditations, a list of mental wellness apps and more.

Storyline Online has many great books for your littles. They are enthusiastically read by Screen Actors Guild members like Betty White, Oprah Winfrey and Kevin Costner.

MOOCS (Massive Open Online Courses) can be filtered by subject, language, learning pace and more. These courses are offered for free by Queens, McGill, Harvard and many other schools in North America and around the world. Keep your brain engaged during these times of isolation!

We have all heard of TED Talks but let's not forget the variety and the ease of access to a broad variety of topics. Get inspired or learn something new in minutes!

The Wellness Society has released a Coronavirus Anxiety Workbook for anyone who is looking for coping strategies during the pandemic.

The Centre for Addiction and Mental Health (CAMH) developed a resource for Talking to Children about COVID-19 and its Impact
Our very own Lansdowne Yoga instructor is continuing to offer her Thursday night class online, free of charge! If you would like to be invited to her Yoga sessions, e-mail yoga.leeds1000islands@gmail.com.
External Information and Resources
Business Support
Community Resources
R.O.L.L. Aid Food Bank call 613-770-2935
Travel & Border