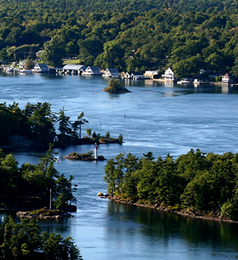 The Township of Leeds and the Thousand Islands has retained Dillon Consulting to complete a review and update of the 2005 Rockport Strategic Plan and a Transportation assessment for the study area.
The purpose is to identify short-term and long-term options and recommendations for the design and operation of the road to address the use of the road by buses, passenger vehicles, trucks and boat trailers, and pedestrians and cyclists.
The study will include a land use review and transportation analysis including active transportation opportunities and recommendations regarding public and private open space and the operation of the public boat ramp.
Work on this project is being initiated in Fall 2019; it is anticipated the timeline for the completion of this work will be six to eight months. There will be opportunities for public consultation throughout this process.
UPDATE: The Township is seeking input on the two concepts for Rockport that were presented at the public information session on December 12, 2019. The presentation provides a summary of traffic information that was collected for three days during peak tourism activity in the village in August of 2019. From this information two high level concepts have been developed. The presentation and concepts are available below. A comment form is also provided. The Township will be accepting comments regarding this information until January 15, 2020.
Rockport Concept Plans
Rockport Presentation Handout
Comment Form
For information on this project please subscribe to this page and join our mailing list to stay in the loop!