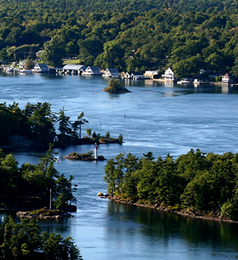 The Township of Leeds and the Thousand Islands has retained Dillon Consulting to complete a review and update of the 2005 Rockport Strategic Plan and a Transportation assessment for the study area.
The purpose is to identify short-term and long-term options and recommendations for the design and operation of the road to address the use of the road by buses, passenger vehicles, trucks and boat trailers, and pedestrians and cyclists.
The study will include a land use review and transportation analysis including active transportation opportunities and recommendations regarding public and private open space and the operation of the public boat ramp.
October 16, 2020: Following the third Public Information meeting on March 12, 2020 and focus group meetings that were held in May 2020 the final draft of the Rockport Strategic Plan and Community Transportation Strategy is being posted for public comment. The Township will be accepting comments regarding this draft until November 16th with the goal of presenting the report to Council at their meeting on December 7, 2020.
Final Draft Rockport Strategic Plan and CTS
Rockport Strategic Plan and CST Appendix A
Rockport Strategic Plan and CTS Appendix B
Please submit comments by email to rockportplan@townshipleeds.on.ca
Previous Correspondence:
Rockport Presentation Handout
Comment Form
For information on this project please subscribe to this page and join our mailing list to stay in the loop!