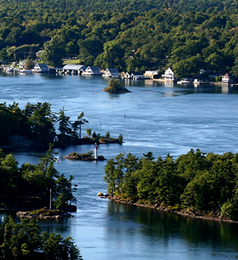 Class Environmental Assessment for the Replacement of the Ivy Lea Wharf and Boat Launch
NOTICE OF COMMENCEMENT
The Township of Leeds and the Thousand Islands along with JML Engineering will be hosting an information session outlining the proposed replacement of the Ivy Lea Wharf and Boat Launch.
Wednesday, December 7, 2022, 5:30 to 6:30 p.m.
Virtual/Phone Attendance - Registration is required before the meeting.
To register visit: https://us02web.zoom.us/webinar/register/WN_jUfAeEJ3Q_S3-YXG55WK1w
The general public will have an opportunity to review and comment on the construction of a new wharf and boat launch. We encourage the public to provide their viewpoints on the proposed works. For further information, or if you have any questions, comments or concerns, please contact:
David Holliday, CET
Director of Operations and Infrastructure, Township of Leeds and the Thousand Islands
P.O. Box 280, 1233 Prince Street, Lansdowne, ON K0E 1L0
613-659-2415 ext. 211
Email Director
Michael Edmonds, P.Eng.
JML Engineering Ltd.
105 Villa Street - 2nd Floor, Thunder Bay, ON P7A 7W5
807-345-1131
Email Engineers
Mon - Fri: 9:00 a.m. – 4:30 p.m.
This notice indicates the start of the Class EA. The project is being conducted in accordance with Schedule B of the Municipal Class Environmental Assessment.