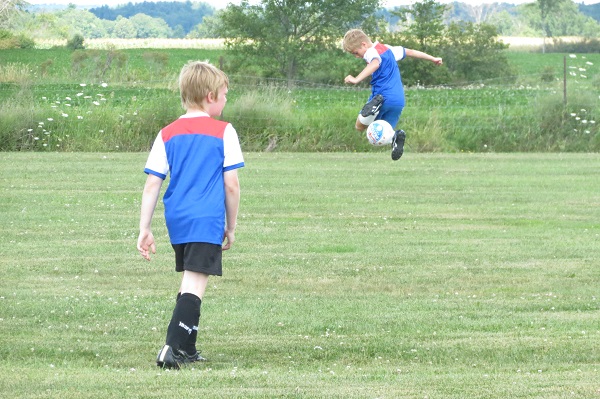 Soccer provides the opportunity to develop basic coordination skills and team work.
Search our Recreation and Leisure Programs Calendar for the next available program, dates and fees or call us.
Indoor Soccer - Lansdowne and Lyndhurst
This indoor program is offered in the Fall usually at both Thousand Islands Elementary School in Lansdowne and Sweet's Corners Elementary School in Lyndhurst.
Challenger Sport British Soccer Camp - Lansdowne
Our Township partners with Challenger Sports to host the British Soccer Camp at 1000 Islands Elementary School in Lansdowne. Focus is on skill development, technical and tactical practices and daily 'World Cup' tournament-style play. Lessons on respect, responsibility, integrity, leadership and sportsmanship are also included. Register now
North Leeds Soccer Association
Ideal for families in the Seeley's Bay and Lyndhurst areas, this program is dedicated to developing sportsmanship, teamwork, discipline and physical skills through soccer. Games are played in Westport, Portland and Elgin.
For information contact Gary Bracken at 613-387-3388. If you are interested in competitive teams, contact Rob Scott at 613-273-4543 or by email rnscott@rideau.net.
Front of Yonge Minor Soccer League - Mallorytown
Front of Yonge Minor Soccer promotes physical, mental, social and emotional growth and development for boys and girls 14 years of age and younger. Games are played throughout the week at one of the two fields in Mallorytown. For information call 613-803-3434, visit Front of Yonge Minor Soccer or email katecapitals@gmail.com.
Pegasus Soccer - Gananoque
Games are held at Jeff Griffin Memorial Field in Gananoque from mid-May through August. Contact mike.stacy@sympatico.cafor information. To learn more about the Player Development Program contact Pegasus@kos.net.