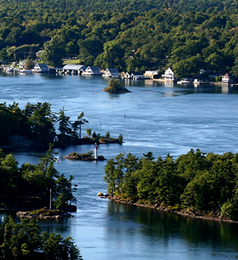 Visit the Lyndhurst & Seeley's Bay Chamber of Commerce to learn about local news, events and activities. This Chamber serves a large, mostly rural, geographical area. A group of loyal volunteer members operate the Chamber Board. The Chamber provides a venue for businesses and residents to acquire and share information, and to express their views about local issues. Members are entitled to the benefits made available by The Ontario Chamber of Commerce.​
The 1000 Islands Gananoque Chamber of Commerce is also a valuable resource. As the Designated Marketing Organization for the area, it has the task of promoting business, industry and a sense of community within an area that almost sells itself. The Chamber covers Gananoque and the Township of Leeds and the Thousand Islands, including the villages of Seeley's Bay, Lyndhurst, Lansdowne, Rockport and Ivy Lea. The main objective of the 1000 Islands Gananoque Chamber of Commerce is to promote and improve trade and commerce and the cultural, civic and social well-being of the district.
Subscribe to our News and Notices page for recent articles and keep an eye on our Events Calendar for upcoming opportunities to engage with your community.