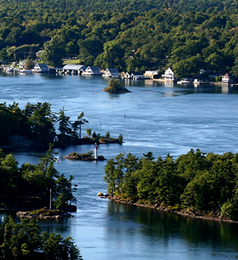 Terms and Conditions
This website is not an official statement of the 'Township of Leeds and the Thousand Islands' (the "Township") policy, bylaws, practice, procedure, or services, and may not be used as such. It is only intended to give general information about the Township.
By using the website you agree that the Township, its employees or agents are not responsible to you for damages from your use of the website or any actions you take based on what you read or access on it and that by using the website you agree to the terms below. Any re-use of the website's contents without written permission of the Township is not allowed.
External Links / Third-Party Services
The Township does not endorse, approve, certify, or control external Internet sites or third-party services, and does not guarantee the accuracy, completeness, efficiency, timeliness, or correctness of the information located on such sites. Reference to any specific commercial product, process, or service by trade name, trademark, service mark, business, manufacturer, or otherwise does not mean they are endorsed, recommended, or favoured by the Township.
Data Collected
When you browse or download information from the Township's website, its servers automatically collect limited amounts of standard information for traffic monitoring and statistical purposes. The Township only collects personal information that is necessary for the administration of a lawful authorized purpose, in accordance with section 38 (2) of the Freedom of Information Protection of Privacy Act such as:
Processing requests for service, products, or information
Providing information about courses and services such as scheduling notices and changes in time, date, or venue
Communicating in response to a request (i.e. sending information such as account statements or receipts)
Identifying persons who have questions or concerns about a request
Advising persons about changes to services and courses and service interruptions or cancellations
Meeting legal requirements and regulatory requirements
Marketing services and courses
"Personal Information" may include: first and last name, email address, home address, and telephone number. The only Personal Information of the Township collects is what is voluntarily provided for specific purposes, such as on applications, questions, feedback, or when subscribing to Township communications. Such applications contain specific privacy notices. Personal information will only be used for the purpose set out in the applicable form. he Website also collects and uses non-identifiable data ("Data") including:
internet protocol addresses
device type, brand, and model
operating system
browser type, plugins, and versions
pages you viewed and time spent on each page of the Website
URL of the page that directed you to the Website and in some instances the search terms used
language of the browser
time and date of visit.
Data is not disclosed to third parties except to report malicious attacks or as required by law. Data includes "cookies", which are small text files that the website creates and accesses through a user's browser when they visit the website. Cookies track language preferences, provide customized webpage content, and display website navigation history. Accepting cookies to search or access the Website is not required and they can be deleted by a user. Data may be analyzed in aggregate by the Township to better understand user behaviour.
Communications
Communications made through this website's email and messaging system are for convenience only and shall not be deemed to constitute legal notice to the Township or any of its officers, agents, agencies, employees, or representatives with respect to any existing or potential claim or cause of actions or for any other purpose. The Township also does not use data or personal information to send unsolicited emails. Appropriate physical, electronic, and managerial procedures to safeguard and help prevent unauthorized access and maintain data security are in place to protect personal information and data from loss, misuse, unauthorized access or disclosure, or alteration or destruction.
Comments
All comments, suggestions, ideas, notes, drawings, concepts, or other information disclosed or offered to the Township by this site, or in response to solicitations from this site (collectively, the "Comments") become the property of the Township. None of the comments are subject to any obligation of confidence on the part of the Township and the Township is not liable for any use or disclosure of the comments. Without limitation, the Township exclusively owns all now known or hereafter existing rights to the comments of every kind and nature throughout the world and shall be entitled to unrestricted use of the comments for any purpose whatsoever, commercial or otherwise, without compensation to the provider of the comments.
Updates
The Township may update and revise these terms as needed and users are bound by the same and should review this page regularly to review any changes. Continued use of the website constitutes acceptance of these modifications.
No Waiver
The Township's failure or delay to enforce any of the terms and conditions under these Terms of Use shall not operate as a waiver of any of the Township's rights or privileges under these Terms of Use.
Termination of Access
The Township reserves the right, in its sole discretion, to terminate, limit or suspend access to this website without notice or liability, for any kind of reason it deems necessary.