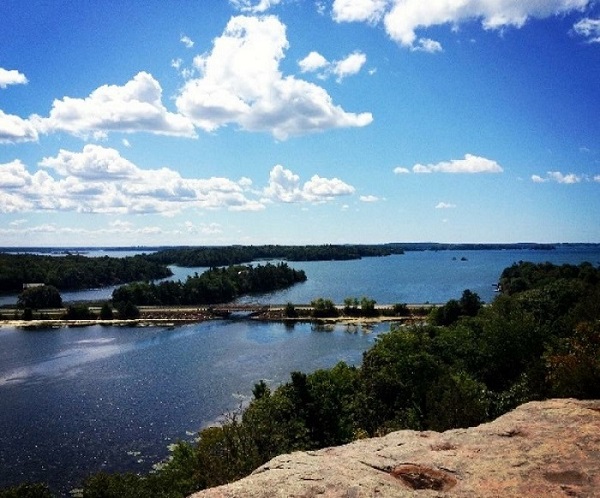 Whether you are looking for an outdoor adventure or a quiet retreat, the Township of Leeds and the Thousand Islands offers something for everyone.
Gather with family and friends for a picnic, hike or swim at one of the many beautiful parks in our Township.
Day-Use Parks
Our day-use parks offer picnic and play areas for the entire family.
Bateau Channel Park - 253 Island View Drive, Gananoque
Located in the southwest corner of the Township on Island View Drive in the Bay of St. Lawrence subdivision, this park includes:
green space
waterfront views of the Bateau channel
Vita parcour fitness trail
Centennial Park - 107 Haskins Point Rd, Seeley's Bay
Located on the Rideau Canal in the village of Seeley's Bay, this park includes:
Baseball diamond
Public washrooms - 8:00 a.m. to 8 p.m. - 7 days a week (July 1 to October 10)
Pavilion
Basketball court
Tennis court
Pickleball court
Paddle/canoe/kayak docking station
Playground
Furnace Falls Park - 108 Water St, Lyndhurst
Located in the village of Lyndhurst on Lyndhurst Creek; a short paddle to Lower Beverley Lake, this park includes:
picnic area, picnic tables, benches, gazebo
dock and boat launch
paddling launch dock
connected to Jonas Street Park via a waterfront trail
Haskins Point - 157 Haskins Point Rd, Seeley's Bay
On the Rideau Waterway at Seeley's Bay, this parkette includes:
viewing platform
picnic area
short hiking trail
Jerry Park - 1 Jessie St, Lansdowne
Located on the west side of the Lansdowne Community Hall in the village of Lansdowne, this park includes:
Two baseball diamonds
Public washrooms - 8:00 a.m. to 8 p.m. - 7 days a week (July 1 to October 10)
Pavilion (with power and parking in the back)
Basketball court
Tennis court
Pickleball court
Skate park
Community Garden
Playground
Splash Pad
Large open spaces
Jonas Street Park - 181 Jonas St, Lyndhurst
Located in the village of Lyndhurst, this park includes:
Basketball court
Playground
Small gazebo
Short walking trail along the water to Falls where there is a public boat launch, public washrooms (open 6 a.m. to 8 p.m. 7 days a week (July 1 to October 10), bicycle fix-it station and picnic tables
Kendrick's Park - 245 Short Point Rd, Lyndhurst
Unofficial baseball diamond
Public washrooms - 8:00 a.m. to 8 p.m. - 7 days a week (July 1 to October 10)
Pavilion (3)
Beach - Sandy/shallow water for swimming in Lower Beverly Lake – but no lifeguards
Canteen serving snacks drinks and ice cream (9 a.m. - 7 p.m. – 7 Days a week July 1 to September 1)
Unofficial beach volleyball court/turtle nesting area
Playground
Charcoal BBQ's
Horse Shoe Pits
Daily admission to Kendrick's Park is $3 per adult, $2 per child, $10 per family/car or Season Family Pass for $50. Residents of the Township are admitted free with proof of address or by displaying a resident sticker on their windshield. Stickers are available at the Township administration office.
Dog Parks
Dogs which are leashed and under control are permitted at our Day-Use Parks. Dog owners are responsible to immediately remove and dispose of any dog waste, (poop and scoop). Dogs are not permitted in the beach area or to swim at Kendrick's Park.
A service animal is trained to do work or perform tasks for a person with a disability and therefore accompany people with disabilities in all areas where members of the public are allowed to go.
For the nearest dog park please check our neighboring dog parks in Gananoque, Kingston and Brockville.
Trail Listings
Our Township is home to many trail systems linking Gananoque, Brockville, Delta and the Rideau Canal. Take in the scenery while you hike, bike, run, motor or paddle your way through the Township.
For quick and easy reference, the Frontenac Arch Biosphere maps numerous trails and routes in our region.
ATV Trails
Thousand Island ATV Club is a not-for-profit club with safe, fun and legal riding trails.
Cycling Routes
Cycling is an ideal way to explore the Township. Visit Frontenac Arch Biosphere to learn more about mountain biking trails, family and casual routes as well as countryside cruising tours.
Fitness Trails
Vita Parcours is a European fitness concept that is making its way to North America. There are exercise stations found periodically across the trails along Cranberry Lake and Bateau Channel Park. Each station has an activity designed to address the major components of a well-rounded fitness program for adults.
Garden Trails
The 1000 Islands and Rideau Canal Garden Trail is in full bloom mid-may through September. Take in the sights and sounds and enjoy all that our region has to offer.
Heritage Walking Tours
Heritage walking tours take you back in time to learn about the buildings and architecture that tell the stories of our villages including:
Hiking Trails
Whether for the physical benefit or simply to explore the beauty, hiking is a great way to get outdoors and take it all in. We are fortunate to have a number of hiking trails crossing our Township.
Motorcycle Tourism Route
The Rideau Heritage Route has winding, narrow roads that take you through breathtaking cottage country and the quaint villages of Westport and Sydenham as well as Frontenac Provincial Park.
Paddle Routes
Check out the paddle routes following the St. Lawrence River, Gananoque River, Rideau Canal and various other lakes and rivers that cross our Township.
Snowmobile Clubs
Join a local club and take in all that our Canadian winters have to offer.
Swimming and Beaches
Visit Kendrick's Park and take a dip in the water, play on the sandy beach and consider staying for a picnic, buying ice cream and refreshments, or renting a pavilion. At the beach, the swim area is marked with a floating line. No lifeguard on site.
The local health unit monitors bacterial levels at this beach on a weekly basis in the summer. Check the latest beach and lake results before swimming.

Splash Pad

Our splash pad is the perfect place for kids to cool off and play!
Located at 1 Jessie Street in Lansdowne, the splash pad is next door to Jerry park, a skateboard park, playground, library, pickleball courts and tennis courts. Washrooms are also located on site.
The splash pad operates from May to September, 9 a.m. to 7 p.m. (unless otherwise posted).
Tracy Holland
Corporate Communications and Community Engagement Supervisor
1233 Prince St., P.O. Box 280
Lansdowne, Ontario
K0E 1L0