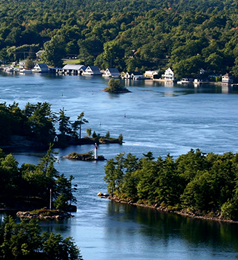 Posted on Thursday, May 19, 2022 01:05 PM
May 19, 2022– Township of Leeds and the Thousand Islands' Touch-a-Truck Event raises $1,000 for Local Food Bank.
(LANSDOWNE) – The Township of Leeds and the Thousand Islands hosted a "Touch-a-Truck" event on May 17, 2022, in honour of Public Works Week, at its main Operations depot in Lansdowne. Township staff accepted donations and ran a BBQ with proceeds going to the R.O.L.L. Aid Centre Food Bank. A total of $1,000 was raised for the Food Bank.
Despite periodic rain and...

Posted on Wednesday, May 18, 2022 09:43 AM
Kingston – The numerous lakes of the Cataraqui Region are highly diverse and important watershed features providing habitat for wildlife, recreational opportunities, sources of drinking water, and are a cornerstone of many local businesses. As part of its conservation mandate, Cataraqui Conservation collaborates with both public and private sector partners to understand, communicate, and protect the health of the lakes in the Cataraqui region.
Cataraqui Conservation is one of 36 watershed-based agencies...

Posted on Monday, May 16, 2022 03:13 PM
Kingston ON – Everyone is invited to join the Friends of The Cataraqui Trail and Cataraqui Conservation on a family-friendly fundraising Quest. Participants can choose to bike or hike the Cataraqui Trail and find clues to help fill out their Quest passport, with a cool prize awaiting those that complete the task. The Cataraqui Trail Quest starts May 20 and runs until Sept. 12, 2022
This is a great way to get outside, enjoy the fresh air, and explore parts of the Cataraqui Region you may never have...
Posted on Monday, May 16, 2022 09:02 AM
Service Disruption Notice:
Kyes Road Closure May 31 – June 3, 2022
The CN Rail Crossing is being rehabilitated.
The portion of Kyes Road from County Rd #2 north to Haig Road will be closed from May 31 to June 3.
Vehicular access will not be available while crews are on site.
Motorists are encouraged to find alternate routes.
Inquiries can be directed to CN Rail Customer Service: 1-888-888-5909
Posted on Monday, May 16, 2022 08:30 AM
Council & Committee Meeting Dates
On May 25, there is an Economic Development Committee meeting at 4:00 p.m. and a Committee of Adjustment meeting on May 31 at 1:00 p.m. Public can participate in meetings virtually through the Township website under "Watch a Council Meeting". Visit the Civic Web Portal to learn more about upcoming meetings.
News
The Township Municipal Office will be closed May 23 for Victoria Day. The waste disposal sites will be open Saturday May 21 but closed...