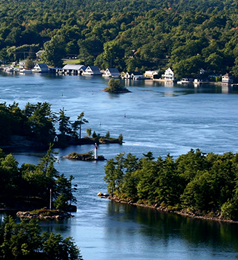 Posted on Monday, March 27, 2023 11:00 AM
On March 23, 2023, Deputy Premier and Minister of Health, Sylvia Jones, informed the Leeds, Grenville and Lanark District Health Unit that the appointment of Dr. Linna Li has been officially approved in accordance with clause 64(c) of theHealth Protection and Promotion Act.
Dr. Li, who has been serving as Acting Medical Officer and CEO of the Health Unit since September 2022 is pleased to make it official.
"This is a vibrant community in which to live and work," says Li, "I look forward to...
Posted on Friday, March 24, 2023 10:32 AM
Cemetery operators are encouraged to complete theapplication for maintenance, improvements and/or repair to a cemetery. Deadline to complete the application is April 30, 2023.
Posted on Wednesday, March 22, 2023 12:00 PM
The Leeds, Grenville and Lanark District Health Unit is celebrating World Water Day on March 22, 2023. In Ontario we are fortunate to have an abundance of drinking water; however, we cannot take for granted that all drinking water sources are safe. Our municipal partners take good care of our municipal drinking water systems; however if your drinking water comes from a private well, it's up to you to protect and test your water supply.
Spring is a good time to have your well water tested for...
Posted on Tuesday, March 14, 2023 11:21 AM
Notice of Second Public Meeting - Proposed Zoning By-Law Amendment D14-2022-008 - Second Meeting Date - April 11, 2023
Take notice that the Council of the Township of Leeds and the Thousand Islands will hold a second public meeting on Tuesday, April 11, 2023 at 6:00 pm. The second meeting will be to consider the following application for amendment.
Zoning By-law Amendment Application D14-2022-008 - 481 County Rd 2
For further information, including how to participate/comment in the public meeting,...
Posted on Friday, March 10, 2023 02:00 PM
The United Counties of Leeds and Grenville has retained BT Engineering Inc. to complete a Schedule B Environmental Assessment for improvements to the at-grade Quabbin Road railway crossing in Mallorytown, Ontario. The existing railway crossing approach does not accommodate low clearance vehicles. The study will evaluate all reasonable alternatives to improve the operation and safety of the existing crossing.
STUDY PROCESSThe project is being conducted as a Schedule B project under the Municipal...