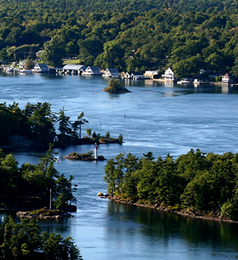 Residents of the Township of Leeds and the Thousand Islands are required to take their household garbage and recycling to one of three waste disposal sites. Residents in the village of Lansdowne have curb-side pickup. Household waste must be in clear plastic bags and be tagged with a purchased label.
Getting rid of large household items? Purchase a large item ticket or an annual Household Clean Up card.
Renovating? Purchase a ticket and dispose of your D-I-Y construction waste.
We do not accept hazardous materials but you do have hazardous waste disposal options.
Recycling
Agricultural bale wrap
At this time, our waste sites do not recycle agricultural bale wrap. Please contact your bale wrap supplier for potential recycling options.
Appliances
Stoves, refrigerators, freezers, hot water tanks, and air conditioner (A/C) units can be disposed of in the scrap metal bin free of charge. Any cooling appliances must have freon/refrigerant removed and be certified CFC free. Contact your local refrigeration company for service prior to visiting the waste site.
Batteries
We accept alkaline batteries such as D, C, AA, and AAA cells.
Boat wrap
For a short period during the spring (mid-April to mid- May), disposal bins for boat wrap are provided at the waste disposal site in Lansdowne and at Clarks Marina and Pecks Marina. Boat wrap bins will remain at Clarke's Marina and the Lansdowne waste disposal site until after long weekend. Please keep the boat wrap as clean as possible, remove all tie ropes, and be respectful of marinas' business hours.
Brush, stumps, leaves, grass clippings, and yard waste
We accept brush, stumps, wood (under 7.5 cm in diameter).
Leaves and grass clippings must be bagged and tagged with a garbage bag tag.
Corrugated paper
We accept clean pizza boxes and corrugated cardboard (flattened and bundled).
Electronic and electrical equipment waste
Dispose of your electronics at the Lansdowne and Lyndhurst waste sites.
Acceptable items:
cell phones, cordless phones, corded phones, answering machines
computers, laptops, monitors
digital cameras and projectors
home theatre systems
iPods, tablets, mp3 players
keyboards, mice, trackballs
radios, stereos, CD and DVD players
photocopiers, fax machines
printers, scanners, modems
TVs, VCRs
The Escott waste site does not accept electronic recycling.
Fire Extinguishers
Empty fire extinguishers can be disposed of in the metal recycling bins at the waste disposal sites.
Freon
Refrigerators, freezers, A/C units and dehumidifiers are accepted in our recycling program if they have the freon removed and are tagged. They must be certified chlorofluorocarbon (CFC/Freon) free. Contact Ken Watson 613-387-3132 or Porters Refrigeration 613-659-4775 for assistance. KIMCO in Kingston will accept dehumidifiers and remove the freon for a fee.
Glass and metal containers
We accept the following glass and metal:
aluminum and tin cans of all sizes
aluminum pie plates and foil
beverage bottles
clear and coloured glass containers
empty, clean and dry paint cans
food jars and lids
Lumber
We accept clean wood and lumber (i.e., not pressure treated, no nails, no staples, etc.).
Organic waste - Green Bin
We accept your dinner plate leftovers and some organic yard materials. Bring your scraps to us:
meat, poultry, fish, dairy, vegetable and bone food scraps, bread, coffee filters, coffee grounds, tea bags
food soiled paper including single-use kitchen towels, napkins, uncoated paper plates and cups, waxed paper and cardboard
garden waste including weeds, plants and flowers (grass clippings not accepted in Green Bin- must be bagged and tagged with a garbage bag tag)
Organic waste can be disposed of in compostable bags or dumped loosely into the Green Bin.
Plastics
We accept plastics with the symbols #1 through #7.
We'll also accept your plastic grocery bags. Please put all your bags inside one bag for disposal.
Paper
We accept the following paper products:
newspapers, magazines and catalogues
flyers and inserts
fine paper
paper egg cartons
books (soft and hard cover and telephone books)
boxboard (including cereal and cracker boxes, rolls from toilet tissue and paper towels - flattened with liner removed)
polycoated paper including milk and juice cartons along with tetra packs such as juice boxes (with screw tops removed) and clean paper plates
Scrap metal
The scrap metal bin at the waste disposal site accepts:
all ferrous and non-ferrous metals
propane cylinders with the valve removed
including metal coat hangers, stoves, and push lawn mowers
refrigerators, freezers, hot water tanks, A/C units, dehumidifiers with freon must have the freon removed before disposal. Contact Ken Watson 613-387-3132 or Porters Refrigeration 613-659-4775 for assistance.
Styrofoam
We accept styrofoam with the symbols #1 through #7. We recommend that you bag your styrofoam in clear plastic bags to keep it contained. We do not accept 'popcorn' styrofoam packaging.
Tires
All makes and sizes of tires are accepted at the Lansdowne and Lyndhurst waste sites. Rims may be attached.
We do not recycle the following items
These must be bagged and tagged:
cloth
car batteries
cellophane and kitchen wrap
facial tissue
gift wrap paper
pink insulation
plastic bubble wrap, zip lock style bags, woven plastic sacks
plastic toys without a recycling label, plastic glasses, plastic CD cases
plastic cutlery
'popcorn' styrofoam packaging
window glass/panes
Prohibited Items
These items are prohibited in our landfills.
asbestos
asphalt and/or pavement
boats
car bodies
cement blocks or bricks
concrete slabs/pieces
dead animals
farm machinery
fill, top soil, clay
fluorescent bulbs, tubes
hazardous waste (includes propane tanks)
industrial waste
large stumps or brush over 7.5 cm
railway ties
Recycling bins and composters can be purchased at your local hardware or retail store.