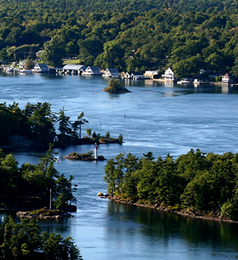 Curb-side pickup only occurs in the village of Lansdowne. Garbage and recycling must be at the curb by 7:00 a.m. on Monday; Tuesday if Monday is a statutory holiday.
It is the resident's responsibility to make sure that waste disposal meets the following requirements:
household waste must be in transparent plastic bags (clear or blue) and tagged with a waste disposal label
bags must not exceed 40 lbs
recyclable items must be sorted by two types:

plastics/metal/aluminum/glass placed in transparent plastic bags (clear/blue)
newspapers/cardboard tied in a bundle or boxed (preferred); may be placed in transparent plastic bags (clear/blue)
Broken bags, loose items, and stockpiled waste pose a biohazardous threat to contractors and attendants. These items will not be picked up and the resident will be responsible for transporting their waste to the waste disposal site.
To arrange pickup outside of the village contact Clint Fletcher at 613-659-3831 or 613-536-8237.
Village of Lansdowne Garbage and Recycling Pickup Schedule