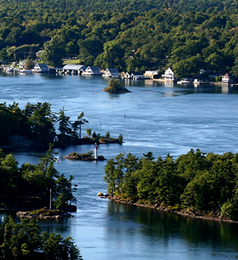 The Township of Leeds and the Thousand Islands (TLTI) is an international playground of unrivaled natural beauty, a vibrant and diverse community in Eastern Ontario. We have the world renowned 1000 Islands and St. Lawrence Seaway along our southern boundary and the UNESCO designated Rideau Canal and lock system along our northern boundary.
TLTI is conveniently located half-way between Toronto to the west and Montreal to the east. Ottawa, Canada's capital, is just 90 minutes away and the Thousand Islands International Bridge, which links Ontario to New York State, is located in the Township.
While we have approximately 9,300 permanent residents, we welcome thousands of seasonal residents and tens of thousands of visitors to our region every year. The Township offers its citizens a great lifestyle; with the perfect balance of heritage, culture, outdoor activities.
TLTI is an exciting destination any time of year. Come join us and find out what keeps people returning year after year.
For dining and accommodations, festivals, events and other things to do, visit:
Communities
Prior to 2001, the Township of Leeds and the Thousand Islands was three separate townships: Front of Leeds and Lansdowne, Rear of Leeds and Lansdowne, and Front of Escott.
Today, we are one amalgamated township situated along the St. Lawrence River in the area known as the 1000 Islands. In the late 19th and early 20th centuries, the region became widely known as a summer resort. Several grand hotels provided luxurious accommodations while steamboats offered tours among the islands.
Lansdowne
The Township is home to several quaint villages including Lansdowne which was originally a stagecoach stop. The hamlet consisted of a church, hotel, post office and a store. A source of pride for the residents is the Lansdowne Fair which has been celebrated for over 150 years.
Lyndhurst
The Village of Lyndhurst, located on the Rideau Heritage Route, is home to the oldest bridge in existence in Ontario and the famous Lyndhurst Turkey Fair which is held in mid-September.
Rockport
Rockport's location on the St. Lawrence River, midway between Brockville and Kingston, made it an excellent stop for sailing and steam ships to replenish their supplies. The community has become a tourist village and a boaters paradise.
Seeley's Bay
Seeley's Bay was created during the building of the Rideau Canal and became a regular stop for steam wheelers travelling on the canal. It was established as a port in 1832 and by 1885 the village was a shipping point for grain, lumber, livestock and wood. Travelers continue to visit Seeley's Bay, enjoying the area's charm and annual events.
Many parts of our rich history are digitally preserved through the tremendous efforts of Leeds Thousand Islands Historical Society.