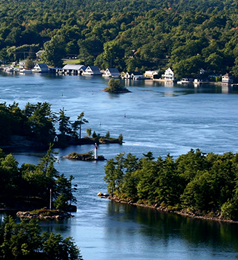 Posted on Monday, August 15, 2022 03:41 PM
Leeds, Grenville and Lanark District Health Unit
MEDIA RELEASE:
August 15, 2022
The Leeds, Grenville and Lanark District Health Unit has been monitoring Diseases of Public Health Significance (DOPHS) locally and across Ontario for some time. Since the onset of the COVID-19 pandemic, public interest in case counts and disease trends related to infectious diseases has increased but care must be taken in protecting individuals' privacy before data can be released. Surveillance and data sharing...
Posted on Monday, August 15, 2022 08:30 AM
Leeds and the Thousand Islands Township News
For the week of August 15, 2022
Council & Committee Meeting Dates
There are no Council or committee meetings scheduled for the month of August. Visit the Civic Web Portal to learn more about upcoming meetings.
News
The deadline to file nominations for Mayor, Councillor or School Board Trustee is 2:00 p.m. on Friday, August 19 (Nomination Day). Contact the Clerk's office to book an appointment or visit leeds1000islands.ca/elections for information.
The...
Posted on Friday, August 12, 2022 01:06 PM
The Ministry of Transportation construction project will start in our area August 2, 2022 and be completed by October 20, 2022.
Due to the scope of work there will be lane reductions on both Hwy 401 and Hwy 137. There will also be impacts on the 1000 Island Parkway.
There will be full closures of the Ramps between Highway 137 and Highway 401 that may last up to 72 hours.
Notice
August 15 7:00AM to August 18 7:00AM
Full closure of the Eastbound Highway 401 to Southbound Highway 137 ramp.
Closure...
Posted on Thursday, August 11, 2022 02:00 PM
FOR IMMEDIATE RELEASE
August 3, 2022
Lansdowne, ON – The Town of Gananoque received funding through the Ontario Ministry of Agriculture, Food and Rural Affairs Rural Economic Development (RED) program, in collaboration with the Township of Leeds and Thousand Islands. Together they have launched the "1000 Islands Wanderer Project".
This year-long project will follow an individual as they travel throughout Gananoque and the Township of Leeds and the Thousand Islands and document their experiences through...
Posted on Thursday, August 11, 2022 10:46 AM
Notice of Public Meeting - Proposed Zoning By-Law Amendment D14-2022-008
Take notice that the Council of the Township of Leeds and the Thousand Islands will hold a public meeting on Tuesday, September 6, 2022 at 5:45 pm. The meeting will be to consider the following application for amendment.
Zoning By-law Amendment Application D14-2022-008 - 481 County Rd 2
For further information, including how to participate/comment in the public meeting, please visit the Township website.
https://www.leeds1000islands.ca/en/growing/active-applications.aspx