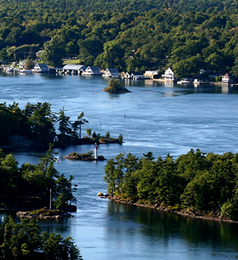 If your 911 sign, also known as your civic address sign, is damaged or stolen, it is your responsibility to replace it. We encourage you to replace your sign immediately as it is used by first responders in cases of emergency. Signs and posts are available for purchase at the Township office.
Not sure where to install your 911 Sign? Review our Civic Addressing By-law for details.
During snowplowing, the force of plowed snow often knocks down unstable mailboxes. Please ensure that your mailbox is fit to withstand the pressure of heavy loads of snow spray from our plows. Mailboxes, like other household features, require maintenance to endure our winter months. The Township does not replace mailboxes knocked down by snow spray. If you believe your property was struck or run over by a Township vehicle, please report it. For those living on County roads or the 1000 Islands Parkway contact the appropriate agency.
Canada Post Guidelines for Rural Mailboxes