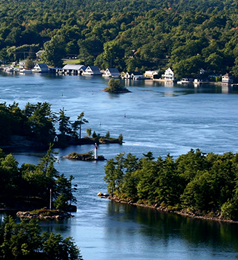 Posted on Wednesday, September 27, 2023 09:30 AM
In partnership with Parks of the St. Lawrence, Township of Leeds and the Thousand Islands staff have arranged for area boaters to use the Ivy Lea Campground ramp this fall.
This opportunity is free and intended for lift out only.
The ramp is available during the following timeframes:
Now until October 8
Sunday to Thursday – 8:00 a.m. to 5:30 p.m.
Friday and Saturday - 8:00 a.m. to 9:00 p.m.
After October 8
Tuesdays and Wednesdays
October 10, 11, 17, 18
9:00 a.m. to 12:00 p.m.
Process
Boaters are to ensure...

Posted on Monday, September 25, 2023 12:00 PM
The Ontario Clean Water Agency will be commencing with hydrant flushing for Lansdowne – October 2 to October 20, 2023.
Residents may notice a discolouration of the water at their homes during this period and for a short time thereafter. If you notice a discolouration of your tap water, please run the water until it is clear. This discolouration is not hazardous to your health. It is typical of a normal operating water distribution system after flushing maintenance.
Please contact Ontario Clean...

Posted on Sunday, September 24, 2023 07:00 AM
TLTI flags are lowered to Half-Mast in recognition of Police and Peace Officers' National Memorial Day. For more information visit.

Posted on Friday, September 22, 2023 04:00 PM
Service Disruption Notice / Road Use:
Ridgway Truffle Shuffle, Seeley's Bay
Sunday, Sept 24, 2023
9:30 a.m. – 12:30 p.m.
Affected streets include:
Bay Street
Mill Street
Haskin's Point Rd
Main Street (County Rd 47)
Motorists are asked to slow down and provide room for pedestrians and event participants.
For more information, contact: TLTI Roads Division 613-659-2415 ext. 234.

Posted on Friday, September 22, 2023 01:00 PM
The Weekly Update for September 18 - September 22 is here.
Look for a new Weekly Update each Friday.