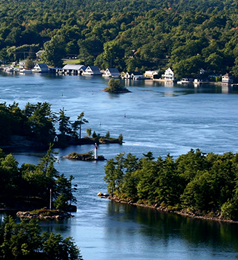 Posted on Wednesday, November 24, 2021 03:03 PM
November 24, 2021
Clerk Kimberly Westgate will be joining the Municipality of the Village of Westport as the new Chief Administrative Officer/Clerk. Ms. Westgate will be leaving the Township in late January, 2022.
Mayor Corinna Smith-Gatcke stated "On behalf of Council, I wish to congratulate Kim on her new role with the Village of Westport and also thank her for her years of service to the Township and support of Council and the Committees of Council."
Township CAO, Stephen Donachey...
Posted on Friday, November 19, 2021 03:30 PM
November 19, 2021
At the special Council meeting held on November 18, 2021, the Township of Leeds and the Thousand Islands (TLTI) Council approved the operating budget of $14,271,400 with a net levy requirement of $10,799,400 for 2022. The capital budget in the amount of $5,723,600 was also approved.
The TLTI tax rate is made up of three components: United Counties of Leeds and Grenville tax rate, Education tax rate, and TLTI tax rate. The 2022 TLTI property tax rate is 0.00460426 which is a...
Posted on Wednesday, November 17, 2021 09:00 AM
Kingston ON – Cataraqui Conservation's Low Water Response Team has downgraded the low water condition from Level 1 (minor) to Normal for the region due to above normal precipitation in October.

"The regional precipitation average was 129% of normal for the month of October," explained Holly Evans, Cataraqui Conservation Watershed Planning Coordinator.

"Surface water levels in the region have risen and all monitored stream flows have recovered. Groundwater levels remain lower; however, it's normal...
Posted on Monday, November 15, 2021 08:30 AM
Council Meeting Dates
There is a Special Council meeting on November 18 at 10:00 a.m. as well as a Committee of Adjustment meeting on November 30 at 1:00 pm. Meetings can be accessed virtually through the Township Website under "Watch a Council Meeting". Visit the Civic Web Portal to learn more about upcoming meetings.
News
Replacement of the Rockport boat launch continues this week. Anticipated completion November 26th.
The Centennial Park play structure is being replaced this month....
Posted on Wednesday, November 10, 2021 02:30 PM
November 10, 2021
The Township of Leeds and the Thousand Islands will be hosting several Remembrance Day Ceremonies for the public to attend on November 11. The Township Office and Waste Sites will be closed on November 11 but regular office hours will resume on Friday November 12. Below are several ceremonies taking place across the Township:
Seeley's Bay Legion (Branch 491)
116 Bay Street, Seeley's Bay
This year, the Seeley's Bay Legion will be hosting an invitation only Remembrance Day
service....