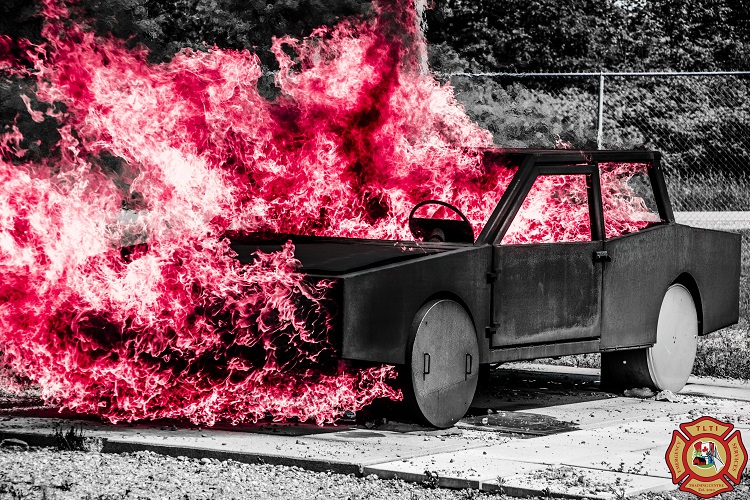 We offer the following safety tips to help you and your family take fire prevention into your own hands.
Learn how to protect yourself and those you care about from the risk of fire.
Candle safety
Township of Leeds and the Thousand Islands Fire Services urges everyone to practice safe candle use. Candle fires most commonly occur when candles are left unattended or something that easily catches fire is left too close to the flame.
extinguish candles before leaving the room, the house or going to sleep
keep candles out of the reach of children or pets
place candles in sturdy containers and at least 0.3 metres (one foot) from anything that can burn such as clothing, furniture, bedding, carpets, books, flammable Christmas trees or decorations
do not place lit candles in windows where they could burn blinds or curtains
never allow children or teens to have candles in their bedrooms
keep matches and lighters out of the reach of children - up high and preferably locked up
teach children that matches and lighters are only for adults
Christmas safety
look for a freshly cut tree, the needles should bend not break
cut approximately two inches off the bottom of the trunk to allow the tree to absorb water
water your tree daily
check all sets of lights and discard any sets that are damaged or old
keep the tree away from any ignition sources such as fireplaces, heaters or candles
remove the tree as quickly as possible after the holidays
secure candles in a sturdy container, in a location where they are out of reach of children and can't be knocked over. Always blow out candles before leaving the room
Cottage safety
When opening cottages in the spring, it is a good idea to:
do a visual inspection of telephone and power lines leading to your cottage, report any damages to your utilities and have them repaired prior to activating your services
inspect indoor and outdoor wiring for damage from mice and other rodents and have a qualified electrician repair any damages
have propane appliances such as stoves, refrigerators and heaters inspected and repaired by a qualified technician. This can reduce the gas emissions and the amount of carbon monoxide we release into the air
Electrical safety
if an appliance smokes or smells like it is burning, unplug it immediately and have it repaired
check all of your electrical cords and replace any that are cracked or frayed
do not overload electrical outlets or run extension cords under rugs or carpets
do not tamper with the fuse boxes or use the wrong size fuse
unplug items such as toaster and coffee makers when not in use
Farm safety
Barn fires are a major concern for Ontario farmers. The Office of the Fire Marshall and Emergency Management has reported that the leading causes of preventable fires were mechanical or electrical failure, misuse of ignition source/equipment and, design, construction and maintenance deficiency. Fires in large farm structures prove difficult to extinguish and the financial losses can be significant.
do not allow smoking in or around barns or near any flammable farm materials
have a fire extinguisher available
establish good housekeeping practices, i.e. keep dust, cob webs and debris to a minimum
ensure all liquid fuel and propane storage areas are a safe distance from fixed ignition sources
never fuel engines inside a building or while engine is running or hot
ensure hay and straw are properly dried before storing it inside
question and/or remove unknown and unauthorized persons from the premises
regularly check all appliances, wiring, electrical equipment and heat-producing materials and equipment to ensure it is in safe, working order
repair or replace any frayed or damaged wiring as soon as it is noticed
situate manure piles a safe distance from buildings to reduce the chance of combustion
extension cords should only be used temporarily and should be removed after use
use only CSA or ULC labeled extension cords
when heat lamps are required, keep the area around the lamp clear of clutter and bedding materials that could catch fire
have an access route for emergency vehicles
Heating appliance safety
In Canada, we depend on our heating systems to keep us safe and warm when the thermometer plunges. It is vitally important to maintain your furnace. Heating systems that consume fuel such as gas, oil or wood need to be inspected and maintained. It is the only way to ensure efficient and safe operation.
Ashes
Woodstove or fireplace ashes must cool before emptying them into a metal container with a tight fitting lid. Keep the container outside, away from combustibles.
Chimneys
The cooling of expelled by-products, restricted air supply or burning unseasoned wood cause creosote buildup.
Avoid chimney fires by using seasoned wood, building small hotter fires; never burn cardboard, wrapping paper or trash. Use a stovepipe thermometer to monitor flue temperatures and inspect and clean your chimney regularly.
Signs of a chimney fire include:
puffy creosote with rainbow coloured streaks
warped metal of the chimney
cracked or collapsed flue tile
discoloured and distorted rain cap
creosote flakes and pieces found on the roof or ground
roof damaged from hot creosote
cracks in exterior masonry
evidence of smoke escaping through mortar joints or tile liners
Maintain your chimney by having it inspected by a certified chimney sweep annually and check for creosote buildup regularly.
CO alarm
Install to alert you to the presence of deadly carbon monoxide gas.
Fireplace
Use a fire screen to protect your home from sparks. Smoke coming into the room could indicate a blockage in the chimney or a faulty damper control mechanism.
Heating systems
Have your heating system inspected annually by a qualified service technician.
Space heaters
Keep space heaters at least one metre away from items that can burn such as curtains, upholstery, clothing and people.
Home escape planning
make a home fire escape plan and practice your plan so that everyone knows what to do in the event of a fire emergency
install smoke alarms on every storey and outside sleeping areas. It is the law.
in case a fire starts, everyone should know two ways out of every room, if possible. When the smoke alarm sounds, everyone must know what to do and where to go. Develop and practice a home fire escape plan with the entire family
determine who is responsible for helping young children, older adults or anyone else that may need assistance
check that all exits are unobstructed and easy to use
know where to go. Choose a meeting place outside, such as a tree, a lamp post, or a neighbour's house where everyone can be accounted for
in case of fire, do not try to save possessions - go directly to your meeting place. If caught in smoke, get low and go under the smoke to the nearest safe exit
call the fire department from outside the home, from a cell phone or a neighbour's home
get out and stay out. Never re-enter a burning building for any reason
Kitchen safety
The number one cause of residential fires in North America is from cooking. Most kitchen fires are preventable if the following safety tips are followed when cooking.
never leave cooking unattended
if a pot catches fire, slide a lid over the pot and turn off the stove. Never put water on a kitchen fire or try to move the pot to the sink. Always call the fire department
keep children at least 1 metre away (3 feet) from around the stove
keep pot handles turned inward
wear tight fitting clothing or roll up your sleeves when using the stove to prevent accidental clothing fires. Do not reach over hot burners
clear all combustible items such as wooden or plastic cooking utensils, dishcloths, paper towels and pot holders from stove tops. These objects can easily catch fire if they come in contact with a burner
deep frying is a major kitchen hazard. Use only thermostatically controlled deep fryers to prevent overheating the oil and the chance of fire
keep appliance surfaces free of spills and grease that may catch fire
cooking requires you to be rested and alert. Avoid cooking when under the influence of alcohol or medications
if you burn yourself, immediately run cool water over the wound for several minutes. If the burn is severe, seek medical attention
do not overload electrical outlets with appliances. Use heat-producing appliances away from cupboards, curtains, and other combustible items
it is the law in Ontario that all residences have working smoke alarms on every level and outside sleeping areas. Test smoke alarms monthly and change batteries when you change your clocks
Power failure
when power fails do not use open flames or a charcoal grill indoors
don't use gas-fueled appliances as alternative heating sources indoors
if you plan to use a portable generator, do not connect household items to the generator unless you have it wired professionally - do not hook the generator up to your home's electrical system
be sure the generator is kept outside where exhaust does not enter buildings
test your smoke alarms now - remember, if they are hardwired they will not function during a power failure - install backup battery-powered smoke alarms for additional protection
Smoking hazards
encourage smokers to smoke outside and make sure cigarette butts and ashes are out before throwing them away
never smoke in bed or when you are feeling drowsy. It is just as dangerous to fall asleep smoking on the couch or in a chair as it is in a bed
smokers need watchers. Before going to sleep, check under and around sofa cushions and upholstered furniture for smoldering cigarettes
keep matches and lighters out of the reach of children - up high and preferably locked up
teach children that matches and lighters are only for adults
Remember to regularly inspect and test your Carbon Monoxide and Smoke Alarms.