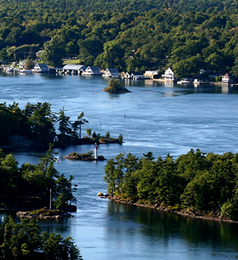 High-Water and Flooding
Spring melt means inland lakes and streams can expect high flows, unsafe banks, and other factors that could pose dangerous conditions for anglers, canoeists, pets, etc.
Subscribe to this page for updates.
Media Releases
none at this time
Information Resources
Sandbags
At certain times, sandbags can be picked up at:
Lansdowne Public Works building, 1233 Prince St., Lansdowne
Lyndhurst Public Works building, 312 Lyndhurst Rd, Lyndhurst
Sand and sandbags are available on a self-serve basis. Please bring your own shovel. Gloves and appropriate footwear are required.
During a pandemic, the Township reminds residents that social distancing requirements help prevent the spread of COVID-19. Please maintain a distance of 2 metres/6.5 feet from one another when filling up sandbags and ensure there are no more than 5 people using the site at a time.
After the flooding event, empty sand bags can be taken to the Township Waste Sites and disposed of free of charge.
Tips for Packing Sandbags
Any material can be used to fill the bags, sand is the easiest to use and work with.
Fill bags ½ or 2/3 full
Only use the ties if packaging for travel
Stagger the bags, no continuous joints within the wall.
Bend knees, be careful using your back
The individual(s) packing and holding the bag should remain seated to prevent injury.
Dry feet
Do not reuse sand from other used bag, due to expose of chemicals and bacteria
How to fill and stack sandbags (video)
What to do during Flooding of High-water Periods
use your 72-hour survival kit
use caution on all roads
use life jackets in and around areas of water
Ensure the safety of yourself, family members and pets
Reminder to Boaters
Boaters need to drive with caution due to floating debris
Boaters need to drive slowly near land (create no wake) so that wave action does not cause further damage to property.
The Ontario Provincial Police patrol lakes and rivers to ensure safe boating practices are being followed.
Additional Resources