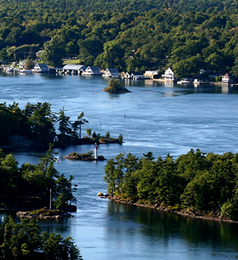 Notice Regarding Septic/Sewage System Permits
Effective October 1, 2022, the Township of Leeds and the Thousand Islands will be assuming the responsibility of septic/sewage system permit review and regulation for sewage system permits up the flow rate of 10,000 litres per day from the Leeds, Grenville and Lanark District Health Unit for this Municipality. The role will be administered by the Building Department.
The Leeds, Grenville and Lanark District Health Unit will continue to oversee applications/permits to completion that were received and/or issued by their office prior to October 1, 2022.
The Township is in the process of updating the website to include additional information on the types of sewage systems, when an application or maintenance inspection will be required, other agency approvals that are required, etc. Application forms will be available on the website and at the office starting the week of October 3, 2022.
If you have any questions concerning this program, please email staff.

Building Permit Application Information
A building permit gives you legal permission to start construction or demolition of a building project according to approved drawings and specifications. Without one, you can face legal and financial consequences.
To help you with the permitting process we encourage you to review our Guide to Building Permit Applications. When you are familiar with the process, complete and submit a building permit application form:
Accessory Building
Commercial, Industrial, and Institutional
Residential Deck
Demolition
Renovations and Additions
Seasonal Dwelling
Single Family Dwelling
Swimming Pool
Tents
Indoor and Outdoor Solid Fuel Burning Appliance including Woodstoves, Pellet Stoves etc.
When do I need a building permit?
A building permit is required for:
all new residential and commercial buildings
residential additions (e.g., bedrooms, family rooms, bathrooms etc.)
commercial additions/renovations and accessory buildings
residential work (e.g., decks, garages, sheds, accessory buildings)
residential renovations
changing roof system from shingles to steel or steel to shingles
electrical systems
plumbing and gas systems
heating ventilation and air conditioning systems
demolition of structures
fireplaces and wood burning appliances
tents (open or enclosed) larger than 60 sq metres
replacing furnaces or hot water tanks
This is a general list. Your project may require specific instructions. Please contact us before starting any construction or demolition project. Structures built without a permit may be subject to increased fees.
You do not need a building permit for the following:
You do not need a building permit when you:
construct any detached structure less than 10 square metres (107 square feet) or a shed accessory to a residential use only under 15 square metres (160 square feet) in size, these structures must comply with other applicable by-laws (e.g., zoning), regulations and contain no plumbing
replace shingles or steel roofing with same materials, or replace exterior cladding, unless structural work is undertaken, insulation is added or air barrier is added or innovative products are used that require alternative solutions
install eaves trough
paint or decorate
erect a fence, unless it surrounds a swimming pool
install, replace or alter electrical fixtures (excluding smoke or CO alarms). Note that an inspection by the Electrical Safety Authority may be required
demolish a farm building on an active farm
tents smaller than 60 sq metres that are used for personal or non-commercial use
Although a building permit may not be required, zoning by-laws still apply and your project may require planning approval or approval from other agencies. Please contact us before starting any construction or demolition project. Structures built without a permit may be subject to increased fees.
What should I submit with my application?
Your application should be accompanied by:
construction details
a detailed plot plan of the property
the administration fee
Review our Guide to Building Permit Applications for other requirements.
How much does a building permit cost?
Building permit fees are based on the value of your construction project and/or the square footage of the project. Projects valued at $50,000 and up require a refundable deposit of $560. An administration fee is also due when your application is submitted. On projects valued up to $30,000 an administration fee of $150 is required. On projects valued over $30,000 an administration fee of $600 is required.
All building permit fees are due when you pick up your permit. Other fees may apply based on the scope of the project. Fees are outlined in Schedule C of the
Take Note: Effective July 1, 2021, the French Public School Board instituted a bylaw to evoke development charges on new residential developments within The Township of Leeds and the 1000 islands. A condition of the Bylaw is that a form be completed and submitted to the board in conjunction with building permit applications for new dwellings. The development charge bylaw includes a $330 fee for new residential construction as described in the pamphlet. Any questions regarding this bylaw, the form, or development charges should be directed to the number on the pamphlet and form being (613) 742-8960 or Etienne.paquet@cepeo.on.ca
How long does it take to get a building permit?
Applications are reviewed by the Chief Building Official within 10 business days and staff will contact applicant regarding status of the permit for these types of construction:
a detached house, semi-detached house, townhouse, or row house where no dwelling unit it located above another dwelling unit
a detached structure that serves a building described in clause (a) and does not exceed 55 m2 in building area
a tent to which Section 3.14 of Division B of the Ontario Building Code applies
a sign to which Section 3.15 of Division B of the Ontario Building Code applies
Other types of construction may require additional time for review as indicated under the Ontario Building Code.
Does my building permit expire?
Building permits are valid for one year from the issue date.
If your project is not completed and finalized within the year, it is your responsibility to complete and submit a building permit renewal form, along with the applicable fee for every year the permit remains open.
Resources